This Phone At A Glance:
3G • Ambient Light Sensor • AT&T • Bar • Camera • Edge • EGPRS • Facebook • FM Radio • GPS • HTC • Instant Messaging • microSD • MMS Messaging • Motion Sensor • MP3 Player • Organiser • PC Sync • RSS • Smart Phones • SMS Text Messaging • Speakerphone • Touch Screen • USB • Video • Web Enabled • WiFi • Windows Mobile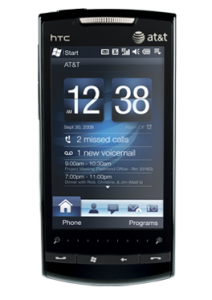 The HTC Pure is a fast, good all-round smart phone with a lovely big screen. It has Facebook AND Office Mobile integration so it's a nice mix of party and business. The 5MP camera takes reasonable photos and you will experience good call quality. It's very light and portable too. Downsides are no headphone jack, camera could be better, and it could do better with multimedia.
If you are looking for a solid Windows Mobile phone, the HTC Pure is a good choice, also because it is quite cheap. However now that Windows Phone 7 is out, you will need to decide if cost is more important than features and usability. Windows Phone 7 is a great step up from Windows Mobile 6.5.
Quick Feature List:
Windows Mobile 6.5
3.2 inch Touch screen (resistive)
5MP Camera
Memory: 512MB ROM; 288MB DDR RAM; MicroSD card slot
Processor: Qualcomm MSM 7201A, 528MHz
FM Radio
Talk time: up to 5.6 hours
Standby time: up to 20.8 days
[phpbay]htc pure, , "", charger case battery headset free protector protectors shield shields booster boosters proguard contract cover covers plan earphone headphone cloth code car stylus adapter headphones cable cradle memory accessory handsfree skin faceplate[/phpbay]