This Phone At A Glance:
8GB included storage • Ambient Light Sensor • Bluetooth • Camera • CDMA • Email • Facebook • Flash • GPS • GSM • HTC • Instant Messaging • MP3 Player • PC Sync • QWERTY Keyboard • RSS • SMS Text Messaging • Stereo Bluetooth • Touch Screen • USB • Video • Video Recording • Web Enabled • WiFi • Windows Phone 7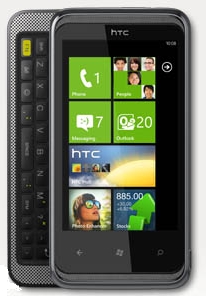 At the official Windows Phone 7 launch back in November, there was no clear 'business' phone. Until now..
The HTC 7 Pro is targeted at the business end of the market, with the marketing focusing on Microsoft Office, the full QWERTY keyboard (always a business favorite - think Blackberry!), the Stocks app (reaching?)...
OK so maybe HTC haven't _quite_ worked out how to make a business version of a Windows Phone 7 device - I mean, what's the major difference between this and the first models? But this is still a great phone, as the specs show you:
1 GHz processor
8GB storage, 521MB ROM, 576MB RAM
5 megapixel camera with autofocus and flash
720p HD video recording
Bluetooth 2.1 with A2DP
330 min talk time (GSM)
HTC Hub
No items matching the keyword phrase "HTC 7 Pro" were found. This could be due to the keyword phrase used, or could mean your server is unable to communicate with Ebays RSS2 Server.