This Phone At A Glance:
3.5mm audio jack • Acts as Modem • Ambient Light Sensor • AMOLED Screen • Android • Bluetooth • Camera • Capacitive Touch Screen • Email • Expandable Memory • FM Radio • GPS • GSM • HTC • HVGA • Instant Messaging • microSD • MMS Messaging • Motion Sensor • MP3 Player • Organiser • PC Sync • Pinch to Zoom • SMS Text Messaging • Speakerphone • Touch Screen • USB • Video • Video Recording • Web Enabled • WiFi
Featuring a full aluminium chassis and high-res OLED screen, as well as the latest version of Android from Google. The HTC Legend features a sumptuous unibody aluminium chassis (looking a bit like the attractive MacBook range), and refining the lines of the HTC Hero to produce a sleek and very aesthetically pleasing phone.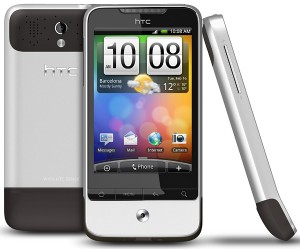 No items matching the keyword phrase "htc legend" were found. This could be due to the keyword phrase used, or could mean your server is unable to communicate with Ebays RSS2 Server.