This Phone At A Glance:
3.5mm audio jack • 8GB included storage • AMOLED Screen • AT&T • Bluetooth • Camera • Digital TV • Edge • Email • Expandable Memory • Facebook • Flash • FM Radio • GPRS • GPS • HSDPA • Instant Messaging • Lightweight • Media • microSD • MMS Messaging • Motion Sensor • MP3 Player • Organiser • PC Sync • RSS • Samsung • Slim • Smart Phone Accessories • SMS Text Messaging • Speakerphone • Touch Screen • USB • VGA • Video • Video Recording • Voice Activated Dialing • Web Enabled • WiFi • Windows Phone 7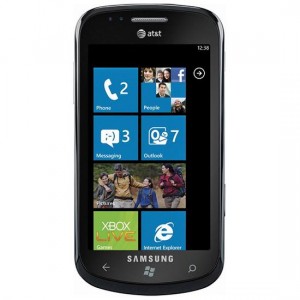 At the time of writing, the Samsung Focus is still THE Windows Phone 7 device to own. It has the nicest screen, and a good mix of features and performance.
What you get:
Amazing 4 inch Super AMOLED display
5 megapixel camera with auto-focus and LED flash
8GB onboard memory
Touch screen (of course, all WP7 devices must have touch screen)
A tiny weight of just 4.2 ounces (119 grams)
Wi-fi
On top of that, you get 300 hours standby time, voice recognition (works nicely!), expandable micro-SD storage, Outlook Sync, GPS, and a full featured, internet-enabled smartphone.
Microsoft DO need to hurry up with their updates (not just copy-paste!) for Windows Phone 7, but the word on the street is that this is a very cool mobile computing platform. The app store is booming. Angry Birds any day now kids!
They are available on AT&T now (coming to Verizon and Sprint in January 2011) and you can easily find unlocked versions below too.
Limited Time Offer
Amazon Wireless has a great deal on the Samsung Focus on AT&T right now:
Free shipping
AmazonWireless Instant Discount
Free AT&T activation
Click here to get the deal!
Ebay has returned a malformed xml response. This could be due to testing or a bug in the RSS2 Generator. Please check the support forums to see if there are any posts regarding recent RSS2 Generator bugs.
No items matching the keyword phrase "samsung focus" were found. This could be due to the keyword phrase used, or could mean your server is unable to communicate with Ebays RSS2 Server.
CURL error code = 6. (Could not resolve host: rest.ebay.com)