This Phone At A Glance:
The newest tablet in the Iconia A series, the Acer Iconia A500 is a new Android 3.0 10 inch tablet. The tablet market is getting interesting!
The Good: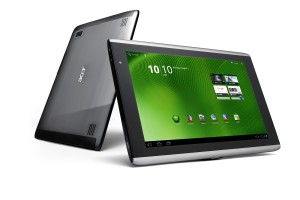 Well built, sturdy aluminium case (almost as nice as the iPad 2)
Fast and responsive performance
Screen produces great colors and sharp text
Can plug in any USB keyboard for fast typing
Camera takes better pictures than the iPad 2 (but not as good as the Samsung Galaxy Tab 10)
Android 3.0 advantages: web browser displays Adobe Flash, recent apps list,
The Bad:
(and this is big) It feels positively clunky compared to the iPad 2.
Hard to read screen in sunlight
External buttons a little small and no raised enough: power, volume, and screen orientation lock
The Average:
10 hours claimed battery life is more like 7 hours
HD video recording not supported
The Specs (A500-10S16u)
1GHz nVidia Tegra 2 dual core processor
1280×800 10.1 inch LCD glossy touch screen (16:9)
OS: Android 3.0 Honeycomb
WiFi b/g/n
4G (LTE)
Bluetooth 2.1
Front camera (for video conferencing): 2MP
Rear camera: 5MP
Headphone port, HDMI out, USB on side
Proprietary port on bottom
microSD slot
Weighs 730g (1.6 lbs)
13mm thick x 177mm wide x 260mm tall
Should you buy it?
If you're reading this, we can already assume you're probably not an iOS addict. No doubt, the iPad 2 beats everything on the market for industrial design, but Android tablets have one clear advantage: the Android platform is RAPIDLY evolving and this will never change, because iOS is proprietary.
Even though the Iconia A500 is only 36g heavier than the iPad 2, and is thicker too, when you pick it up it just doesn't feel as… solid. The iPad 2 somehow has the feel of a well-built device. Apple have definitely nailed it in this department. The screen is also more reflective than an iPad 2, however this won't be a problem in regular household lighting.
Having said all that, once you get used to the external form factor (assuming you're not switching between the iPad and the Iconia!), I doubt you'll care. The Iconia is great fun to use: the touch pad is responsive, the screen is very nice to look at, and Android 3.0 is a very interesting and flexible platform to play with.
Price-wise, the 16GB RRP is USD$449 (but can be found lower on the web – scroll down to see), while the iPad 2 16GB WiFi only can be found for the same: $499. Keep in mind the Iconia A500 has 4G, so you get more connectivity for the price.
Bottom line: if you want Android 3.0 on a tablet, and you want it fast, then get one today. You get a more modern device than the iPad 2, despite being a bit bigger.
Check out the best prices on the web below!
Acer Iconia TAB A500 Photos
Acer Iconia A500 Deals
[phpbay]acer iconia a500, 20, "", case dock screen keyboard charger car power sleeve cable*[/phpbay]
Some Video Reviews!
httpv://www.youtube.com/watch?v=9bVzx1Cu2yI