This Phone At A Glance: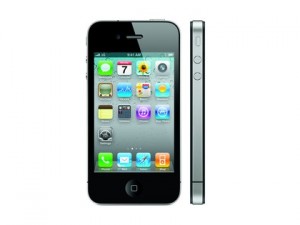 The iPhone 4 provides a nice new display, enhanced performance and an improved design. The minute you pick this phone up you can tell that it is a high quality device, this think phone with an excellent screen has a stylish and expensive feel to it.
While the iPhone 4 is a great update from the 3G, it is still an evolution. We'll focus on the best NEW features. These are:
Retina Display
The idea with the Retina screens is to be absolutely clear. All reports say that text and images look fantastic. This is important because the iPhone screen is still small (like all smartphones) – so the clearer, the better. You're more likely to actually use it if it looks good!
Metal
The iPhone 4 has been designed to feel more solid. It has a metal band around the edge. And this only results in a weight slightly heavier (2 grams) than the iPhone 3G.
5 Megapixel Camera
The bottom line is this camera is definitely a fair replacement for most 'point and shoot' cameras. Obviously if you are serious amateur photographer, you'll still want a dedicated camera. But for the majority of people, having a phone plus a decent camera (and a built in iPod!) will be a real bonus. I'm always using my Nokia 5MP camera to take quick snaps when I'm out on the road. It does OK, but the colors and sharpness are not the best. Personally, i'd love to have a better camera in my phone.
It also has a LED flash which is quite bright – so it does OK in low-light conditions.
720p HD Videos
Carrying on with the camera, let's look at how it does with videos. First of all, having a 720p mobile video device is awesome. Sure there's the Flip HD, but having all this in one pocket-size device – nice!
You can shoot in widescreen by double-tapping the screen while in video mode. You even get the iMovie app, which allows you to put together a video with captions and other features – right from your phone. Then you just upload to Youtube or Flickr and you're done! (Tip: you can upload to Youtube directly from your iPhone using the PixelPipe app)
Did I mention it has 2 cameras? Yes, there's one on the screen side for video conferencing. The quality of this one is understandably inferior to the main one. Perhaps Apple will upgrade this in future models.
There are lots of additions you can add to your iPhone 4 to make it look unique. We've collected some of the good ones below, as well as some other interesting iPhone 4 photos.
I've got the Power
Next we're going to talk about the new chip that drives the device, and the improved battery life.
This phone is fast. The new A4 processor (also used in the iPad) makes switching between apps noticeably quicker. Hardcore intensive apps like iMovie will still have moments of slowness, but let's not forget – it's a phone! Use a computer for proper computing.
You can now get a full day of use from the battery, unlike the previous models. Moving the antenna to the outside of the phone allowed fitting of a larger battery. Standby barely uses any battery life at all.
And the rest…
Get a screen protector or invisibleShield as the screen does smudge up quickly.
Should I Buy an iPhone 4 Now?
If you don't have an iPhone 3GS, yes!
If you do, then consider waiting until the next version of the iPhone 4 comes out. The 3GS is still a great phone.
[phpbay]"iphone 4″, 30, , jailbroken 2g 3g 2gs broken faulty[/phpbay]