This Phone At A Glance:
AT&T • Email • Facebook • GPRS • HTC • Instant Messaging • MP3 Player • Organiser • PC Sync • Smart Phones • SMS Text Messaging • Speakerphone • Touch Screen • USB • Video • Video Recording • Web Enabled • Windows Phone 7 • WVGA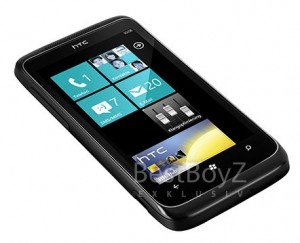 The latest leaked Windows Phone 7 device looks solid, but what do we really know about it?
Well, the WP7 platform demands some basics, so we pretty much only know the basic spec. Here it is:
Similar to the HTC Schubert and HTC Mozart (who comes up with these names!?)
1.3GHz processor
WVGA screen
Camera with a flash
3.5mm headphone output jack
Looks like it'll be available on AT&T
With Window Phone 7 launching in USA on October 11, there's not much time for more leaks but maybe we'll see a 6th to follow the Mondrian!?
Either way, we at MCP are stoked that we now have another major competitor in the smart phone platform world. Apple, Google, Nokia, and now Microsoft. Android devices are now outselling iPhones. They did it with the Xbox, can they knock some steam out of Apple? All reports (such as the previews we've heard about on Windows Weekly) point to an impressive platform. The devices will mature.
The consumer wins with ever expanding choice of smart phone.
We live in exciting times, people.