This Phone At A Glance:
Camera • EVDO • LG • MP3 Player • QWERTY Keyboard • Touch Screen • Verizon • Web Enabled
LG enV Touch Overview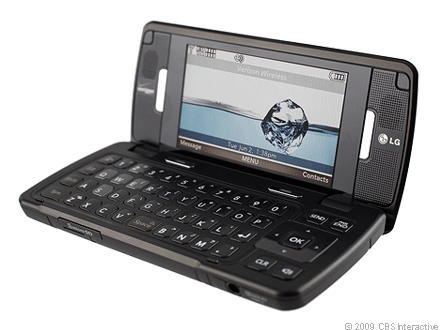 LG has always produced phones that consumers can get into and the LG enV Touch is one of them.  Combining the current love of tactile screens with the company's signature enV phones, the Touch comes with some great features.  This cellular phone has a sleek design that keeps it from being bulky and the QWERTY keyboard has a better layout and a larger screen for easier messaging.  This phone by LG is going to keep Apple and T-Mobile hopping to keep up.
List of key features
Touch screen interface
QWERTY keyboard
Two displays
Talk time up to 260 minutes
3.2 megapixel digital camera
EV-DO rev. A
HTML web browser
3.5 millimeter headset jack
Good points
Texting is easier with the larger display over the QWERTY keypad.
QWERTY keypad has been restructured for easier texting.
The 3.2 megapixel camera takes clear and sharp pictures.
The full HTML browser allows you to surf and chat with ease.
Bad points
The touch screen interface still needs some work as there are a few glitches with it.
Web browser does not flow as well as it could.
The phone is visual e-mail and corporate e-mail capable but at an additional monthly fee.
There is no Wi-Fi capability built into the phone
V Cast Mobile Television is not supported.
Conclusion
For the most part the LG enV Touch is a great phone that helps reinforce the company's popular enV touch line.  It has a full touch screen interface on the main display but instead of building the keypad into the touch screen it is still a separate entity on this phone with its own display.  Both displays are larger and clearer and the camera comes with some fun features to play with.  The HTML browser has also been updated, but as we mentioned there are still some quirks with it that need to be worked out.  Overall the phone is a great investment with the biggest problem being the fact that it lacks Wi-Fi capability.  If you're not planning on doing that much web surfing, this probably really isn't even an issue.
[phpbay]lg env touch, ,,[/phpbay]