This Phone At A Glance:
You have got to see the new phones from modu! Basically, they allow you to put skins on your phone, so you can easily have many different phones. Here's how it works:
You buy a phone from them. It will have a 'jacket' as they call it. This is the outer covering of the phone.
You can then buy many different jackets for your phone, and swap them on and off to suit your mood and needs
Now, these are not some silly plastic coloured case; those have been around for ages. modu jackets actually have electronics in them too. This can include large video screens, panels specifically for gaming and typing, and of course shiny, coloured, and textured jackets for pure fashion reasons
These are a really great idea. It's early days yet but I reckon these will be very popular.
Go and have a look at the full range – they look fantastic!
Here's one – the media mate: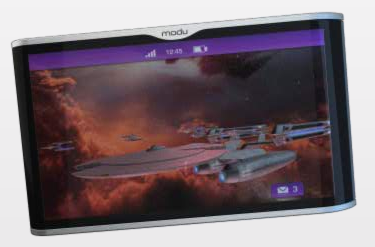 Some background on Modu Mobile
modu was established by Dov Moran and several of his colleagues from msystems, a company he founded and sold to SanDisk in 2006 for $1.6B. modu's vision is to bring a fundamental change to the dynamics of the mobile phone industry. The company is dedicated to developing products, technologies, a wide ecosystem and business relationships that will help realize that ambition. modu will have its official launch at the Mobile World Congress, being held in Barcelona, Spain in February 2008.
modu gives users the freedom to choose a new phone as often as they like, meeting their changing needs, preferences and style- easily and affordably. At the heart of the modu ecosystem is modu – a tiny and sophisticated mobile phone. modu can be slipped into a wide variety of modu jackets – stylish phone enclosures that enable users to create a new look or design and provide added functionality. modu can also slip into modu mates– consumer electronic devices that are modu-enabled – allowing users to create an entirely new communication experience.
[phpbay]modu, 30, , ""[/phpbay]