This Phone At A Glance:
Ambient Light Sensor • Android • Bluetooth • Camera • Flash • GPS • IMAP • Instant Messaging • Media • microUSB • Motorola • MP3 Player • POP • QWERTY Keyboard • SMS Text Messaging • Speakerphone • Stereo Bluetooth • USB • Verizon • Video • Video Recording • WiFi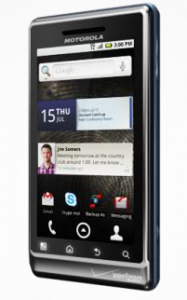 The Motorola Droid 2 is kind of like the Droid X for people who want to WATCH content, rather than CREATE it. While it has a 5MP camera, it cannot record HD video. It also doesn't have HDMI or Wireless HD. So it's a media phone – but you need to use the media on the phone – not on your external device.
But what it does have is:
30FPS framerate video recording (at 720×480)
Better support for more media codecs including OGG, WMV, WMA
IMAP and POP email support
Webmail support: GMail, AOL, Hotmail and Yahoo
And of course its battery life is better than the Droid X – mainly due to the fact that the screen is smaller at 3.7 inch.
It ships with Android 2.2 (FroYo) and comes in White and glorious Sapphire!
Motorola Droid 2 Sapphire – only ONE CENT on AmazonWireless!

Motorola Droid 2 also in White – ALSO only ONE CENT on AmazonWireless!

[phpbay]Motorola Droid 2,30, 9355, ""[/phpbay]