This Phone At A Glance:
3G • Camera • GPS • Horizontal Slide • Instant Messaging • MMS Messaging • Nokia • PC Sync • QWERTY Keyboard • Smart Phones • SMS Text Messaging • Speakerphone • Touch Screen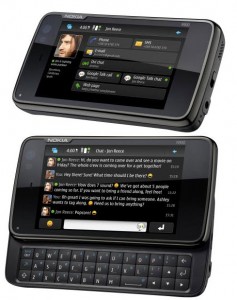 Appearing somewhat like the Motorola Droid, the Nokia's N900 is the latest S60-powered smart phone. Its closest relative is the N810. It runs on the newest version of S60 – Maemo 5.
Just the Facts:
Full QWERTY slide-out keyboard
Ambient light sensor – adjusts screen brightness depending on current lighting conditions
Fast processor
Ovi support
Thick – not the most pocket-size phone
Average battery life
Current issues with faulty charger ports – not covered under warranty
System notifications are much better than the iPhone and Android phones
[phpbay]nokia n900, 40, , ""[/phpbay]